On 21 April 2020, the Multi-Ministry Taskforce announced that it would extend the circuit breaker period until 1 Jun 2020 (inclusive).
Supporting Workers and Businesses
The Government will extend the 75% JSS on the first $4600 of gross monthly wages for local employees across all sectors for another month, i.e. in the month of May 2020. This enhanced payout for May 2020 will be disbursed by end-May 2020 via PayNow or having existing GIRO arrangements with IRAS. Other employers will start receiving their cheques in early-June. The Government encourage all employers to sign up for PayNow to receive payouts faster.
Similar to the arrangement for April, the 75% subsidy for May 2020 will first be computed and disbursed based on November 2019 wages, thereby ensuring speedy disbursement. Subsequently, we will adjust future JSS payouts to account for actual wages paid in May 2020, relative to November 2019. 
Employers who put local employees on mandatory no-pay-leave or retrench them will not be entitled to the enhanced JSS payout for those employees.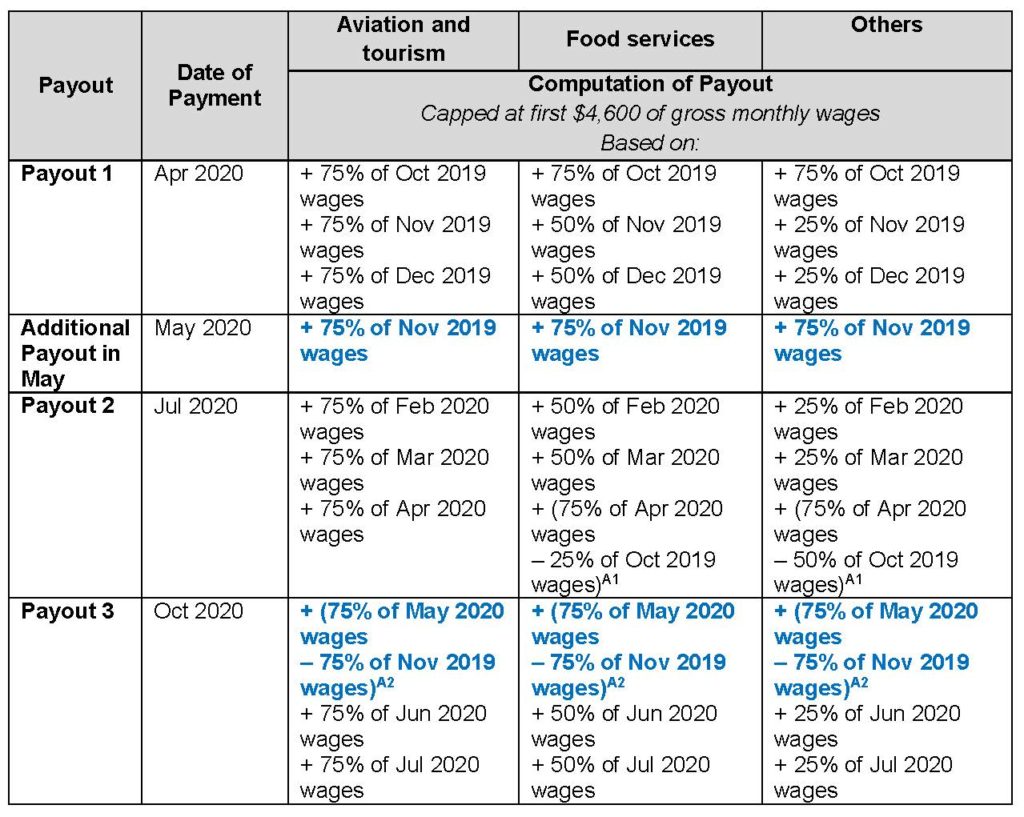 Jobs Support Scheme ("JSS") to cover Shareholder-Directors
The Government has extended the Jobs Support Scheme, to cover wagers of employees of a company who are also shareholders and directors of the company. 
This support is only applied to companies that were registered on or before 20 April 2020, and for the wages of shareholder-directors with Assessable Income of $100,000 or less for Year of Assessment 2019. The May 2020 and subsequent JSS payouts will include support for qualifying shareholder-directors. The May 2020 payout will also include back-payment for companies with qualifying shareholder-directors whose wages were excluded from the first JSS payout in April 2020.
Foreign Worker Levy Waiver and Rebate extended by 1 month
The Government will extend the Foreign Worker Levy (FWL) waiver and FWL rebate by one month, to ease labour costs of firms that employ foreign workers in this period.
As with the initial introduction of the waiver and rebate, this assistance will support firms with workers who are unable to work due to the circuit breaker and/or Stay Home Notice (SHN) measures. Firms should use the assistance for their workers' wages and subsistence needs. MOM will provide further details.